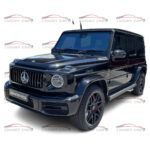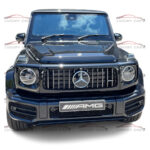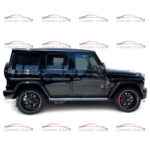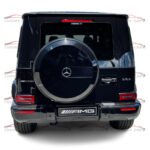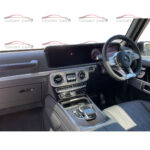 Hire Mercedes G Wagon
Mercedes G Wagon Specification & Rent Rates
Model
:
Mercedes G Wagon – AMG
Auto/Manual
:
Auto
RATES
Rate Per Day
:
$1700 per day including 10 % GST + 150 Kms/day allowance based on a daily rate
Chauffeur Price
:
$550 per hour
Weekend Rate
:
$2550 for 2 days including 10 % GST + 300 Kms allowance
Note:
Extra km charge $12.50/km incl GST per Km. Accident Excess is $10000 for age over 30 yrs old Australian license
Excess is $12000 for an international License/License Holder Over 30 yrs old.
Charges will be different for interstate driving trips. $7500 refundable bond required if you are over 30 with full unrestricted Australian Licence.
Price may vary if you book for more than 1 day for self-drive.
Please call us for more details.
G Wagon car hire for wedding: Make the event unique and classy
While your wedding plans are in place, do not forget the car you will use to arrive at your venue. At Luxury Car Rental Melbourne, we are your trustworthy source of luxury cars for all events. We suggest that you think G Wagon Care hire for wedding is an excellent choice to make it a perfect choice.
With this luxury car, you will make a statement about your high status and choices in life. Its unique design makes it stand out amid a sea of similar vehicles. This Italian GT is as if trapped in an SUV body style, which has a surprising effect on the onlookers and guests.
As you hire G Wagon Melbourne, you step into the world of impressive luxury cars. This fantastic car has already made its place in the heart of a chosen few who live a modern life. The vehicle will surely capture your and your guests' hearts as they are all immersed in style and luxury.
Why should you choose our service?
We are the leading luxury car rental service in Australia, so we understand what type of luxury car will suit our customers' wedding celebrations.
We have professionals who will doubly ensure that everything related to the luxury car goes smoothly and take on all the worries. You are left to enjoy the moment of your life.
You can depend on us for a thrilling and exciting ride throughout the route to your wedding destination.
Access courteous chauffeurs with fantastic cars to drive you magnificently. They will take care of all of your travel needs.
Mercedes G Wagon Hire & Rental Melbourne
G Wagon car is your perfect choice to make your wedding ceremony a memorable event. This car adds a touch of style and status that you so desired.
But the car is not just about a luxurious look and stylish design. It is also about great modern features that make the ride joyous and fantastic.  Its cargo area is spacious that can accommodate a good amount of luggage.
Here are some features that stand out :
Engine
All G63s come with a twin-turbocharged 4.0-liter V-8 engine that makes 577 horsepower and 627 lb-ft of torque.
Interior and Comfort
The inside of the G – Wagon is well-appointed and has a deep feeling due to full-leather treatment. Experience it in the Nappa leather seats in the Mercedes-AMG G 63. This gives the car a vintage, luxurious, and classy look, making it an ideal choice for wedding ceremonies.
Safety Features
When you hire G Wagon, be assured of the highest safety of the driver and the passengers. The car comes equipped with safety features that are standard for maximum protection. The vehicle has standard automatic high-beam headlamps, blind-spot monitoring, Dual frontal, side chest-protecting airbags for front and second-row outboard seating positions, side head-protecting (curtains) for the front and second rows, and knee airbags for the driver and front passenger are standard, and automated emergency braking to keep you safe and secure from any unexpected event.
Easy booking
You can depend on our trusted team of professionals to guide you in choosing suitable cars. As you pick G Wagon car hire for a wedding, we ensure the hiring process goes smoothly. We will quickly sort out issues related to the car so that you drive away from the car and enjoy the ceremony.
Hire at unbelievable rates
We have set G Wagon car rental more competitive in the market so that you can focus on enjoying your wedding ceremony. We understand that everyone should celebrate the occasion without financial burden. So, our luxury car rental rates for this fantastic car are entirely within your budgetary reach.
So, book our G Wagon car immediately at more accessible and competitive rental rates and drive away the luxury vehicle for a memorable wedding.