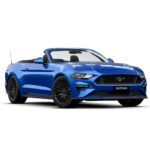 Ford Mustang Convertible V8 – Mustang Car Hire
Ford Mustang Car For Rent
Ford Mustang Convertible V8 Specification & Rate
Model
:
Ford Mustang Convertible V8
Seating Capacity
:
4 Seater
Fuel Type
:
Petrol
Auto/Manual
:
Automatic
Note: Extra km charge $0.55 cents incl GST per Km. Accident Excess is $5000 for age over 25 yrs old Australian license, Excess is $5700 for an international License/License Holder Over 25 yrs old. Charges will be different for interstate driving trips. $2000 refundable bond required if you are over 25 with full unrestricted Australian Licence. Please call us for more details.
RATES
Rate 1
:
$400 per day, including 10% GST + 100 Kms/day allowance based on a daily rate.
Weekend Rate
:
$640 per day, including 10% GST + 100 Kms/day allowance based on a daily rate.
THE WEEKEND RATE IS ALSO AVAILABLE
Ford Mustang Car Hire and Rental Melbourne:  Enliven An Event In Style
Do you dream of going on an extended cruise or planning for a sightseeing tour with your life partner in a luxurious open-air car in style? Well, at Luxury Car Rental Melbourne, we are here to help you realise your dream immediately.
You do not have to own this expensive luxury car to enjoy its ride. Instead, visit our service and take the convertible away for a long weekend drive, a business trip, or another occasion. With us, you have quick access to the Ford Mustang Convertible V8 luxury car that makes tours a memorable event of life.
Get behind the wheel of a luxurious Mustang car with our Mustang car hire services, available in Melbourne. Our Mustang rental options cater to a range of needs, whether you're seeking a convertible car hire for a special occasion, or simply want to enjoy a fun-filled day out with a Mustang rental. Our fleet boasts the latest Ford Mustang Convertible V8 models, ensuring a stylish and comfortable driving experience.
Our Mustang hire options are flexible and cater to both short-term rental and long-term rental periods, making it easy for you to choose the perfect option. If you're based in Brisbane, our Mustang hire Brisbane services to offer the opportunity to explore the city in style. Meanwhile, if you're in Melbourne, our Mustang hire Melbourne options are perfect for those seeking an unforgettable driving experience.
We often recommend that our clients hire a Mustang for weekends for its luxurious features. They frequently hire this vehicle for several purposes, including weddings, outings, chauffeured services, and school balls.
So, when planning your wedding, think of our services to access Ford Mustang rent for weddings. Enjoy this luxury vehicle for open-air travelling during your wedding occasion.
You can also plan a long sightseeing tour of Australia to visit exciting locations such as Mornington Peninsula, Great Ocean Road, or Dandenongs with the top down with this muscle car.
About Ford Mustang Convertible V8
Ford Mustang Convertible V8 is a muscle luxury car that comes in both roofs and without roof versions. Its design aims at giving you the freedom to enjoy an open-air driving experience. Our Car Rental Companies offer a range of Muscle Car options, including the Ford Mustang GT, making it easy to find the perfect rental solution. Whether you're looking for a Gift Voucher, or simply want to experience the thrill of Hiring a Convertible, our Average Price options cater to a range of needs.
Here are the car's attractive features:
Seating and Interior Space: The car has plenty of space for front passengers to have a good time in the rear. The Mustang hire Brisbane has comfort-giving supportive front seats and six-way power adjustment through power lumbar support. This 4-seater has a spacious Front Leg Room, Front Head Room, Rear Leg Room, and Rear Head Room.
Engine and Transmission: It has a roaring 5.0-litre V8 engine of 460 hp and 420 lb-ft of torque.
Comfort and entertainment: This car has all the comfort and entertainment features that modern people long for. You get heated/aircon seats to make driving an enjoyable experience.
The ford mustang car hire Melbourne has the latest multimedia entertainment facilities so you can play your favorite songs while driving on a long route.
You also get parking assistance for the luxury vehicle's safe and secure parking.
It has a nine-speaker sound system that you can access via a touchscreen display. Other entertainment features include Android Auto,  Apple CarPlay, SiriusXM satellite radio, enhanced voice recognition, AppLink, 911 Assist,  and two smart-charging USB ports.
Safety: It has a rearview camera equipped with a reverse sensing system. Its navigation and keyless entry feature for Ford mustang car rent Melbourne also are handy for a safe driving experience.
Easy Ford Mustang Convertible V8 Rate
At Luxury Car Rental Melbourne, we believe our clients enjoy the rare occasion when they ride a luxury car. So, we have slashed our mustang Car hire Melbourne rental rates. This step makes us the most competitive luxury car rental service provider in Australia.
Daily rental rate
You will pay an easily affordable rental charge of $400 per day when hiring Mustang Convertible V8 from us.
The above rate includes 10% GST + 100 Km/day allowance based on a daily rate.
But please note that you will be paying extra for any KMS travelled beyond the set limit. The extra km charge will be $0.55, which includes GST per Km.
When it comes to Accident Excess, it is $2500 for ages over 25 yrs old Australian license, and Excess is $3200 for an international License/License Holder Over 25 yrs old.
Charges will be different for interstate driving trips. A $2000 refundable bond is required if you are over 25 with a full unrestricted Australian Licence.
It's important to note that a Non-Refundable Deposit is required to secure your rental, which can be paid by Credit Card. Before you book, be sure to familiarize yourself with our Terms and Conditions, which outline all of the Important Notices you need to know about your rental.
Get started with us right now to hire this fantastic luxury car with us and enjoy the ride.
At our luxury car rental company, we aim to make your car rental experience as stress-free as possible. That's why we offer competitive pricing and high-quality Convertible Cars to choose from, as well as a knowledgeable and friendly team who are always on hand to help you choose the right Ford Mustang hire option.
Don't wait any longer! Book your Ford Mustang GT rental today and hit the road in style. Our well-maintained car hire Mustang rental fleet is thoroughly inspected to ensure your safety and comfort during your total rental period. Whether you're planning a special event or just want to treat yourself, Hiring a Convertible from one of the best Car Hire Companies around is the ultimate choice. So what are you waiting for? Book your Mustang Car Hire today and enjoy the ride of a lifetime!"